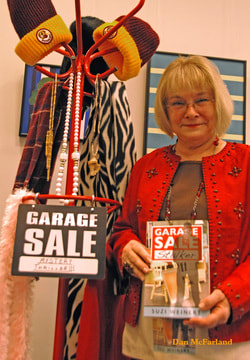 "You might say it's the U.S. Army's fault," chuckles Suzi Weinert when asked about her attraction to garage sales. An Air Force brat turned military wife, Suzi's investigation into bazaars, thrift shops, swap meets, and garage and estate sales was borne of necessity. Moving more than 11 times across the United States and Germany – all the while raising five children and trying to make every new house a home – she quickly learned that whatever couldn't be taken on a move could later be supplemented by her new destination's military or civilian thrift shops.
But what began as a need quickly turned into a bona fide passion. So much so that, following a spine-chilling experience at a garage sale in the Virginia countryside (where she and husband now live in retirement), she found herself writing a short story that would eventually turn into
Garage Sale Stalker
, her debut novel and the first in a series of
Garage Sale
mystery-thrillers. Now, living proof of the old adage that someone's trash really
is
another's treasure, Suzi Weinert finds herself in a position that most only ever fantasize about. Her literary debut, penned when she was 72 years old and published when she was 75, is coming to the Hallmark Channel as a made-for-TV movie based on the book on September 14th, 2013.
Full House
alum, Lori Loughlin, is starring and bringing her protagonist, Jennifer Shannon, to life. "Everything bought at a garage sale comes with a story," Weinert recently told
Naples Florida Weekly
. "So when I began writing, the possibilities seemed endless."
It would appear that Hallmark Channel thinks so, too. Already buzz about
Garage Sale Diamonds
– the forthcoming
Garage Sale
mystery, released in September 2013 and was the most watched movie of that month – and its adaptation into a follow-up TV movie has begun.
Suzi Weinert is the author of Garage Sale Stalker, the first novel in a series of Garage Sale mysteries. A member of the Mystery Writers of America and Sisters-in-Crime, she lives with her husband, a retired Army officer, in the Virginia countryside. The award winning author has been featured on TV morning exclusives, talk radio, internet blogs and magazines all at the age of 76 stemming from her thrilling novels that seem to bring consistent mystery and adventure to peoples lives everywhere. Check out her exclusive interview in 2016 by clicking the link here --> http://bit.ly/1PyhWsHEnjoy Reading! -SuziFind Suzi on
Facebook
, Twitter, & LinkedIn(Suzi Weinert)
---